"For no one can lay any foundation other than the one already laid, which is Jesus Christ."
I Corinthians 3:11 (NIV)
Our story begins in February 22nd, 1890, when Mount Olive Baptist Church commissioned 26 people to begin a new congregation called South Stanhope Baptist Church. South Stanhope Baptist would, in time, become Grace Baptist Church of Netcong and eventually, Grace Church on the Mount.

That very same year on December 6th ,1890, just a few miles east, A group of eight Swedish immigrants bound by ties of common language and love for the Lord met for the purpose of forming a missionary association. This would become the nucleus of what would eventually be called Bethlehem Church.

Two Churches side by side, reaching the community for Christ. In 2019, these rich histories merged together to forge a new future together. This merger has provided us with ways to grow and change. Change, to effectively share the Gospel with our neighbors and local culture, has been and always will be part of our DNA. Grace has always made it a priority to do what we can to reach the un-churched and under-churched in our region. Now we have two locations: Netcong Campus and our Randolph Campus to do just that with!
"Where there is no prophetic vision the people cast off restraint..."
Proverbs 29:18 (ESV)
Our vision is "to raise up generations of families that are built to last." This vision has always been in the forefront of everything that we do. A family that has the Gospel of Jesus Christ as its foundation becomes a vibrant and resilient beacon of hope to a watching world. This resilience is seen through our willingness to change and adapt in order to best serve our Lord in the mission He gave us.

For example, with the advent of COVID-19, it was necessary for our church to draw on the incredible resourcefulness that we have developed over the many years of our existence. We developed an excellent Virtual Sunday service in a matter of days and did everything we could to keep our congregants connected while still being safe. This was the product of the many talented individuals on staff and our committed congregation. This pandemic has tested our church in every respect. God has blessed us with a unique ability to adapt and persevere while maintaining our ministry goals. This quality is a strength that has given success in all aspects of our ministry and will continue to do so as we continue to grow.
"From the tribe of Issachar, there were 200 leaders of the tribe with their relatives. All these men understood the signs of the times and knew the best course for Israel to take."
I Chronicles 12: 32 (NLT)
Where are we headed? That is an excellent question. Perhaps one of the greatest opportunities before us is to pivot beyond "one church in two locations" to become "one church in multiple locations and homes."

Whatever our direction is, we want to be like the people of Issachar who understood the times and were willing to master the art of the pivot. For the glory of Christ, we want to be ever ready to follow His lead and continue to grow and adapt to best minister to our ever changing world. We hope that you will be a part of this never ending journey we are on.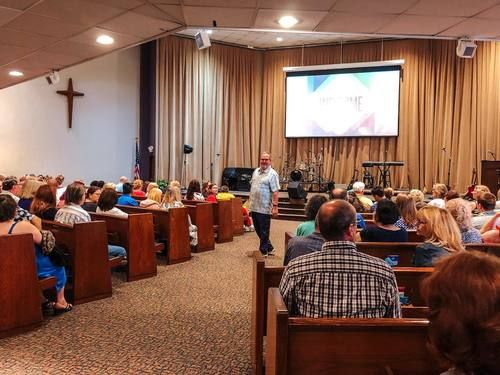 Be a part of our story...